Ollydbg software cracking tutorial. How to get the serial number of a program with OllyDbg ~ Hacking while you're asleep
Ollydbg software cracking tutorial
Rating: 6,2/10

1079

reviews
Reverse Engineering with OllyDbg
Make changes in the disassembled file, such as: write commands, modify commands and reassemble the file. No more Trial softwares, patch them yourself easily. Figure 9: Breakpoints Window The window shows the virtual address of all software breakpoints currently set, the active status always, disabled , and the disassembly instruction of the breakpoint. Actually, what this has done is to convert our serial to hex! As you can see, the following trial software application is expired and not working further and it shows an error message when we try to execute it. These instructions can be function calls, any other routine calls, jumps, conditional jumps, which depend on the zero flag, negative conditional jumps… 6. At this point, the question we are now faced with is where to begin? To exploit the key registration algorithm, keep an eye out for part two of this tutorial on making the key generator. Tunggu beberapa saat dan klik F9 running , lihat dan taraa akhirnya cracked.
Next
Ollydbg Basics With Video ~ Hacking
Making programs behave as you want them to, and not the way the programmer wants them to. That will make it all the easier to crack. I would recommend that users download the video pack and the crackme all neatly provided in the link below and try the entire process themselves. Run the program and see the result. Hi Thanks for this tut, but i need some debugger for mac os x app so i can crack the app i want. One type of copy protection common in trial or beta software allows a program to run only until a certain date.
Next
How to get the serial number of a program with OllyDbg ~ Hacking while you're asleep
It's like the program knows about our intentions and it is closed by itself when we try to run it with a debugger tool. I would like to introduce you now to a more advanced and professional cracking technique, cracking using a debugger. There are 7 steps in the cracking process: 1. As you get near 3 full sets slow down or you will miss the serial. The first breakpoint was for the name we have entered and the second is for the serial number. Press F8 until you highlight the following row: 0040122D. If you intend to use this information to impress your friends, leave it and grow up! Go to your Start menu and find the Run command.
Next
Reversing Tutorial
We cannot work like that, and for getting multiple keys they are asking huge amount which a student startup company like mine cannot handle. We break again on the Recordings registry key so press Run again. Next, press F12 in order to pause the code execution so that we can find the code that causes the error message to be displayed. Sort the calls by Destination. After this, 30 is subtracted from our number i. Try to locate strings and keywords, try to enter the password and see how the program responds.
Next
The Hacks Behind Cracking, Part 1: How to Bypass Software Registration « Null Byte :: WonderHowTo
Feel the power you have, the power of cracking, letting programs behave as you want them to. Disclaimer — By Reading this tutorial You agree that this tutorial is intended for educational purposes only and the author can not be held liable for any kind of damages done whatsoever to your machine, or damages caused by some other,creative application of this tutorial. Finding the Bytes: Lets first try the easy way. We then jump back to the initial code we looked at in section 2. There are a few ways windows does this - its beyond the scope of this article to teach you the depths - but I will tell you that one of them if using the call 'GetDlgItemTextA'. The only Difference between the two types is the veriable size.
Next
How to crack software
The processor uses these variables for basic mathimatical and logical operations. We are going to start by opening Ollydbg. Notice if the executable is packed then we are not going to be able to read a lot of strings within the file. Now it is time to do some modification to the binary code. How To Crack A Software Using Ollydbg 2017 LatestThe main principle of our business is to completely satisfy the needs of our users for all their data sharing and storing.
Next
Reverse Engineering for Noobs
Try to understand the jumping mechanism of the protection. Enjoy How To Crack A Software Using Ollydbg 2017 Latest. Open up the program you wish to bypass with ollydbg. Also, nobody cares if you got hacked. Select the line and press F2 to set a breakpoint. This time, we have to choose some different approach to crack the native executable. MessageBoxA is made Figure 19.
Next
Ollydbg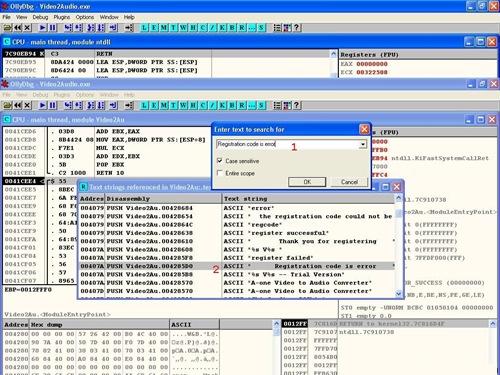 It contains tools for working with hard disk: a breakdown into sections, diagnosis, preservation and restoration parts. So, what we need to do is make sure that if the Crackme makes this call, Olly intercepts it and breaks for us so that we can follow what is being done with the information. This is mainly due to computer processes' ability to be completely manipulated by an assembly debugger. Please, don't contact me to crack programs, it is illegal. The addresses highlighted with white means that there is set a breakpoint.
Next
How to Crack a program using OllyDbg 1
U can get a free demo program, crack it, and use it. That is why, as we stated earlier, assembly programming knowledge is necessary when reverse engineering a native executable. However we can now try all the letters in the alfabet. If we continue this process we go through a long session in User32 and eventually land back here: 00401223. The tutorials are divided into 3 parts: Part 1:Introduction, tools and the basics of cracking. This is a big package of 244 tutorials for learning about reverse engineering skills, including Unpacking, Patching, Cracking, Keygening, etc.
Next